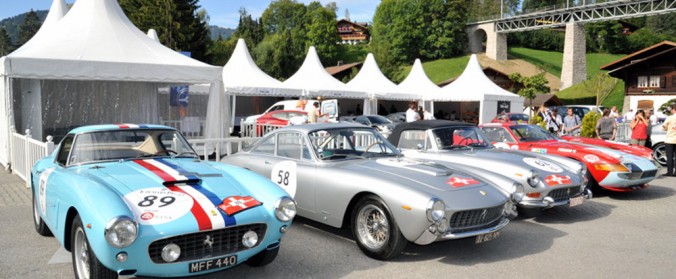 Gstaad Classic 2011
After three days of competition in the Swiss Alps, on Saturday 4 September the Gstaad Classic competitors returned one last time to the Parc Fermé at the heart of the famous Swiss resort. A last day highlighted by two extraordinary special stages and a slalom on the Saanen military airfield; the torrential rain of the 2009 edition made place for beautiful weather.
The day's second special stage, very fast and long with over 15 kilometres, was decisive for each category's final classifications. In VHC, the Audemars Piguet crew, Philippe Liechti / Carolyn Twaites wins with their Porsche 911, in front of Jean-Marc and Patricia Bussolini on another 911. In third place, Daniela Ellerbrock and Zaklina Rohwer's splendid Ferrari 250 GT SWB. In the GHI category, Christian Traber imposes himself once again with his Porsche 911 RSR, making the rally's best time in the General Classification. The index Performance classification is taken by an Alfa Romeo 1900 C belonging to Jean-Pierre and Christine Cathiard. In Regularity, George-Henri Meylan and Julien Stervinou sign the best time with a Porsche 356.
On Saturday evening, the competitors met at the prestigious Gstaad Palace for the traditional prize-giving ceremony in the presence of Philippe Merck, General Manager Audemars Piguet and the Swiss Formula 1 driver, Sébastien Buemi, the watch-making Manufacture's ambassador.
In the name of EFG Bank, Keith Gapp – himself third in the Performance Index, rewarded the Ferrari 212 Export's German team with an entry for the next edition of Spa Classic.
All the participants will remember this second edition's splendid route and the incredible weather from start to finish.  From the Château d'Aigle to lunch at high altitude at Meiringen, the charming stop-overs and places chosen for the dinners, between luxury – Grand Hotel Park, Gstaad Palace, authenticity –Olden restaurant, and originality with a dinner at the Diablerets 3000 glacier, in company of a distinguished guest, amateur of classic cars: Bernie Ecclestone.
The Gstaad Glassic Audemars Piguet obviously set a high standard for this 2011 edition; the choice of the itinerary, the quality of the accommodation and the convivial atmosphere. The weather played its part with three sunny days and the sumptuous Bernese Alps allowed the competitors, to forget, or nearly, that the special stages were cancelled on the second day, in this canton where, unfortunately, motor sports are not welcome.
Competition :
VHC:
1-LIECHTI – TWAITES / Porsche 911
2-BUSSOLINI – BUSSOLINI / Porsche 911
3-ELLERBROCK – ROHWER / Ferrari 250 SWB
PERIODE G/H
1-TRABER -SCHARNHORST / Porsche 911 RSR
2-HENRY – LOMBARD / Alpine Renault A110
3-DENAT -SAMMARTANO / Porsche 911 RS
INDEX OF PERFORMANCE 
1-CATHIARD – CATHIARD / Alfa Romeo 1900 C
2-CORTES ARJUELA – CORTES / Porsche 356
3-PEARSON – GAPP / Aston Martin DB2
REGULARITY 
1-MEYLAN – STERVINOU / Porsche 356
2-MIRABAUD – CAYRE / Mercedes 300 SL
3-MILOJKOVIC – LJUBISAVLJEVIC / Porsche 911
Gstaad Classic on Sports Car Digest
Gstaad Classic on very be