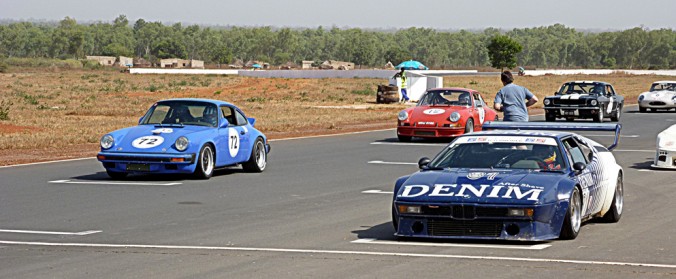 Stanislas de Sadeleer and Christian Traber win Dakar Grand Prix
Stanislas de Sadeleer and Christian Traber participated in the first Edition of the "Grand-Prix de Dakar Historic" on de Saleleer's BMW M1 Procar which took place on the "Baobabs Race Track", 60km south of Dakar. It was a first but great experience to drive this car on the African Continent. Except for a race in Kyalami in 1979, it is the first time ever a BMW M1 Procar raced on the African Continent.
It was a 4 hour Endurance Race with min. 4x drivers change. This is exceptionally long and hard for both the car and the drivers in such hot and dusty environment. The car was specially prepared with strong air filters in order to save the engine.
Also the the drivers where told not to Rev. the engine above 8000 Rpm to keep it cool enough to finish the race and to save tires and fuel.
At the finish line Stanislas and Christian took first place and won the race. They managed to bring the car home without any mechanical problems or unexpected pitstop over this long period.
It was a great experience to drive in Africa and the car will start again for the second edition of this Historic GP early February 2012.