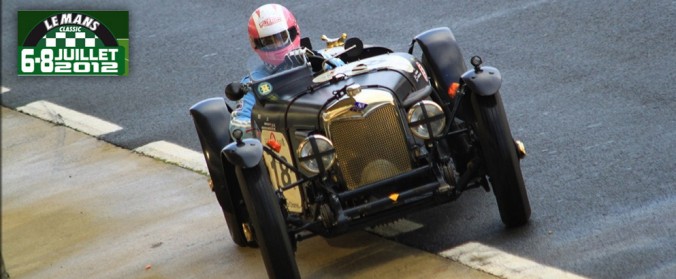 Siam Siassi Le Man Classic 11th index Performance – Riley 9hp Brooklands speed 1928
Siam Siassi finished successfully Le Man Classic 2012 together with CKL team, which is a name synonymous with both Jaguar and Historic Motor racing. Siam and co-pilot Andrew Keith-Lucas who is brand ambassador for Jaguar historic racing decided to take part at the French race circuit with a unique motorsport challenge. Siam was accompanied by a 2 man pit crew from CKL as he raced in a 1928 Riley 9hp Brooklands Speed at the Le Mans Classic.
These two men had all little experience with the Riley engine but delivered some of the fastest possible pit stops for Siam and Andrew while working round the clock to ensure that the Riley Speed was up to the mark for Sunday's Le Mans Challenge. Though Siam and partner faced some engine problems during the race, on Saturday's night events they did secure 5th place out of 67 entries Grid 1 and 11th on the overall indexed performance races Grid 1.
Siam commented: "It was an impressive help to have the CKL act as our support crew. CKL supported about six cars at Le Mans during the weekend including one of the best historic Jaguars of the race and they showed a real Le Mans spirit by working tirelessly on the car when we faced some major mechanical challenges and were fast and extremely focused in the pit lane. It was sincerely hard to believe this was their first Le Mans experience with a Riley since they are in principle Jaguar specialist. The challenge of going racing, being competitive is indeed possible only when a team dedicated to the same goal is gathered. I would like to thank Gstaad Automobile Club for their kind recommendation to Le Mans Classic race. It was a real pleasure to see other members of GAC taking part in the Grid 1."
[gallery link="file" columns="2