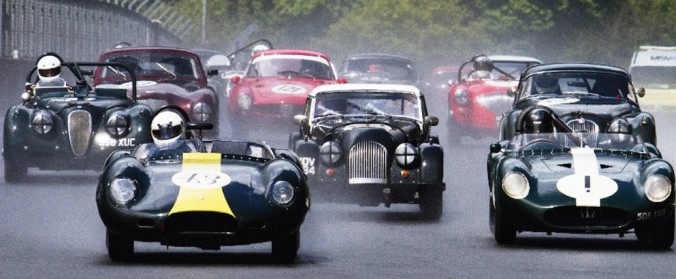 Vredestein Jaguar XK Race – Oulton Park 11th May
This 2.69 miles circuit is challenging in the dry but the drivers also had to endure a drizzle qualifying & our wettest race for a long time, not an easy prospect in either an open car or 50-year old fixed head with minimal demisting.  Alexis de Beaumont had to scratch due to a gearbox failing during testing having "flown" the tricky first chicane.
Qualifying saw Nigel Webb's 120 ahead of Andrew Moore & Chris Keith-Lucas. Chris fortunately running a 150 fixed-head rather than his normal open 120, which was still a little poorly. Bob Francis, Siamak Siassi (XK120s) & Claire Keith-Lucas (XK150) qualified within the same second, promising a good race. A similar lap time covered Nik Rochez, Paul Kennelly & Rob Pinchbeck. Qualifying was made difficult with 2 races practicing together
The cars were called up early for the race which caught out Nigel Webb whose XK pole position came to nothing as he started form the back of the grid. Despite that, and in very trying conditions he clawed his way to third, helped by Siassi who, a few laps earlier rearranged the tyre wall at the chicane, let him through thinking he was being lapped.
Andrew Moore went on to win from Chris Keith-Lucas after being side by side for a few corners: whilst wife Claire, after a slight coming together with Rochez, managed to hold him off. Bob Francis, Claire & Nik had a battle royal until Francis pulled away. Moore's win was all the more challenging with a race-long duel with Morgan and Aston Martin which were more suited to the wet.  Drivers even experienced hail during the race, stinging through race suit & gloves
[gallery link="file" columns="2″ ids="1143,1144,1145,1146,1147,1148,1149,1150,1151,1152,1153,1154,1155,115