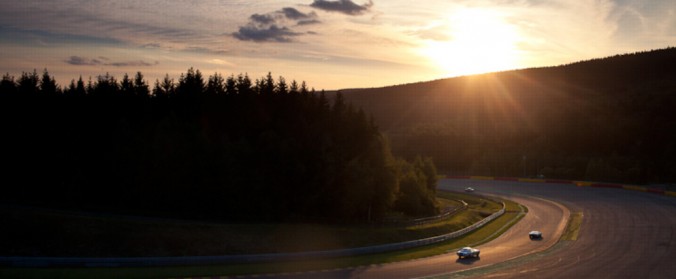 Spa six hours 2013 Team SIASSI finished with Jaguar lightweight Lowdrag
Historic motor racing is constantly full of challenges, but when you have exhausted all other possibilities, then there is the Spa 6-Hours.  Of all Classic Car races, nothing, absolutely nothing is as tough as this one. Winning this endurance race is a major victory, and even to finish in it is beyond many entrant's dreams:  Expense, disappointment, exhaustion, crashed cars and blown-up engines are the order of the day.  Why all this attracted Siam Siassi into taking part, we will never know!
Siam's chosen car was a very pretty silver aluminium-bodied Lindner Nocker-style Low Drag E type.   The body was originally created by RS Panels some years ago, with fast road use in mind.  When Siam bought the car he raised it to the next level as a race car.  The initial preparation was by Classic Jaguar Racing, a racing engine was built by Rob Beere, and latterly race preparation and set-up carried out by CKL Developments Ltd.
The team of three drivers was to be 1) Siam himself, 2) highly experienced Swiss historic racer Christian Traber, and 3) Siam's old Le Mans Classic buddy Andy Keith-Lucas.  But with just a few days to go Siam was calling the workshop to warn us he was in serious pain, having done something terrible to his back and ribs, and might not be able to drive.  Finally on medical advice he reluctantly pulled out and appointed a replacement driver, the formidable German racer / instructor Wolfgang Kaufmann.  Wolfgang was known to be super-quick in modern race cars, but how would he get on in a delicate historic car he had never seen until the day he drove it?
Shaking the car down in pre-practice all the pilots found the car drivable but felt the handling still needed improvement.  Fortunately at set of Avo front dampers had been brought out to Spa for the car, so on they went in place of the bouncy Gaz units.  The improvement was dramatic, and the car was immediately much more stable.  The engine too showed it was no longer troubled by over-heating pistons.
Qualifying practice saw the car in 36th place, out of a massive total grid of 109 cars. In front of us were an intimidating group of cars, including no less than ten GT40s and eight E types.  Fastest lap for the car of 3 min 01.4 sec was set by Wolfgang.  Then, after qualifying practice the team and the owner sat down to decide tactics, refuelling stops, and the order in which the drivers were to perform. In the lead-up to the race CKL race mechanic Justin Evans went meticulously over the car one last time to prepare it for the race.  Finally it was fuelled up to the brim, with the intention of the car not having to stop for almost the first two hours.
Starting at 4 o'clock, the first driver out in the car was Wolfgang.  He turned out a fantastic 2 min 59 sec lap time and worked the car up to a creditable 17th place overall.  But during this period something happened we just could not have made up! Christian received a mobile phone call from Wolfgang to say the rear suspension had collapsed and the car was stuck beside the track somewhere above Eau Rouge and was out of the race.  With heavy hearts, we all came off the pit wall, tidied up the tools and went to look for the car round the track.  We could not find it anywhere, but then suddenly got the text message from Andy "We are still in the race – get back quick".  The mobile phone call had turned out to be from another Wolfgang in a totally different car.  Poor Wolfgang Kaufmann must have wondered why he was getting no pit signals for thirty minutes!
Then, after about an hour and a half from the start the engine spluttered and coughed on a couple of corners, telling Wolfgang that it was seriously low on fuel.  He came in early, catching us unawares.  Andy has never put his helmet on so fast.  He then jumped in the car to drive it round to re-fuelling.  This is always an agonising wait while we watch our car drop further and further back on the screens.  Finally Andy was out on track again, but we knew from then on we were going to have to re-think our fuel strategy, and make three stops, not two.
The engine continued to hold up well, and in the gathering dark Christian took his turn as third driver out, putting in a strong performance, but made an unscheduled pit stop to replace a vital plug in the top of the gearbox which had let go and was pouring out oil.  Quick thinking from the CKL mechanics allowed us to borrow one from Read Gomm's Low Drag E type in the paddock and get the car back on track with the minimum delay.  However inevitably we dropped yet further back in the race order.  Before long Christian too had to come in for fuel, and by this stage a new problem was beginning to affect the car.  The alternator was failing.  But, by this stage we were absolutely determined to finish the race if humanly possible.
Last driver out was Wolfgang for a second stint.  We lined up spare batteries for him in the pits, and again and again he would come in with the headlights glowing like weak candles, for us to chuck on yet another battery and send him out for another ten or fifteen minutes.  How he managed to drive the car quite so manically fast with such hopeless visibility can only be put down to his considerable skill and the fire in his belly!  Finally the chequered flag came out and we could rejoice in a finish, 50th place and only three E types ahead of us.   Strangely, we just can't wait to have another go next year………
By Chris Keith-Lucas