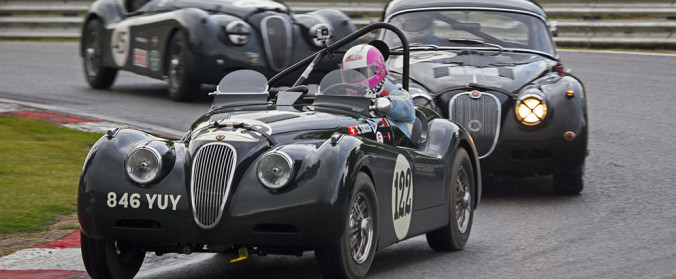 Brands Hatch Indy Circuit June 2014
Once again the XKs were to compete within the AMOC race for 'Sports Cars from the '50s' making up nearly fifty percent of a full grid of thirty cars on the shorter Indy circuit. On a dry qualifying track, John Burton was the quickest of the Jaguars in seventh place overall.
The afternoon race was preceded by an hour of torrential rain during which racing had been suspended, but the race still started with the track wet and slippery from the oil of earlier races.
With truly difficult track conditions, a number of cars made excursions beyond track limits. Siam Siassi and Andy Keith Lucas had a great battle through the race, both drivers showing secure car control.
However, as the circuit began to dry, Burton was unleashed, making his way first to the front of the Jaguars, and then setting about the lead pack. The second half of the race saw an intense tussle between six cars of different makes repeatedly swapping places in the fight for second place overall, and which saw an Allard J2, started from the back of the grid, coming right through the field to head this group to the flag.