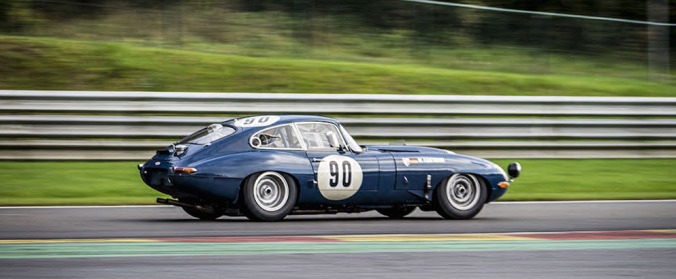 Team Siassi Finished Spa Six Hours 2014
Last year Team Siassi finished Spa Six hours with honor driving aluminium-bodied Linder Nocker-style Low Drag E-type. However in 2014 it was decided to reinforce the team with a Blue Le Man Etype racer recently restored to full race machine. The team of five drivers was to be 1) Siam himself 2) Christian Traber 3) Alexis De Beaumont 4) Rob Newall 5) Wolfgang Kaufmann.
It's almost a law of nature when it rains at Goodwood, the sun will be out in full force at Spa – and vice versa. So when the 2014 Revival was honored with three days of Indian summer weather it was almost inevitable to expect at Spa the reverse. And so it turned out. Despite the bad conditions, a massive grid of more than 100 cars (yes, really!), exciting cars and brilliant racing – that's the Spa Six Hours in 2014.
Yes, Belgium is famous for its beers, and yes liquid flows freely in the Ardennes region that is home to the challenging Spa-Francorchamps circuit. Unfortunately it is mostly water falling from the sky and that's precisely what happened for much of the weekend, most notably for the last 90 minutes or so of the Six Hour race on Saturday evening. The fact that the race was stopped earlier than six hours was probably a relief to many, not the least the hardy marshalls and spectators. The Six Hours has grown steadily in stature and the 100-car entry included a huge variety of machinery with the front end of the grid dominated by V8s of one sort or another.
Qualifying practice saw both cars in trouble due to technical problems. Indeed both E-type performed poorly and the team could not record good time for the grid classification. The low drag was classified 60th and the Le Man Racer 65th.
After the qualifying the team sat to discuss carefully the strategy and tacticts, refueling stops etc…. We did not expect to start the race with one car behind the grid and one lap late. Indeed the Le Man Racer refused to start at the grid start and after being fixed started the racer position last.
Despite a bad start and terrible conditions, both cars finished successfully the six hours race supported by Garage Graber technical team and finally the checkered flag came out and the team could congratulate each other for the following results:
Le man Racer Jaguar Etype car no. 90 Alexis De Beaumont / Rob Newall / Wolfgang Kaufmann Finished 23rd overall and 3rd Etype
Lightweight Low drag Etype car no. 60 Siam Siassi / Chrisitan Traber / Wolfgang Kaufmann Finished 41st overall and 6th Etype