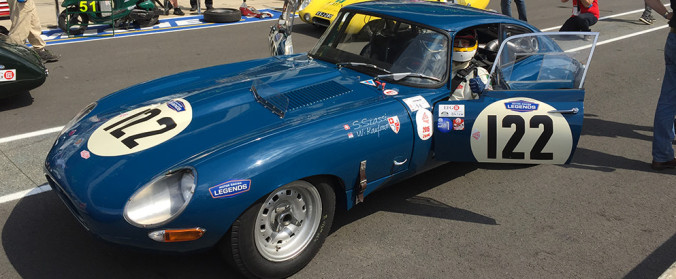 Team S.Siassi Finished First Etype and 9th overall at Le Mans Legend 2015
June 13th, 2015 – The stretched age range for the Le Mans Legend 2015 historic car race has allowed seven Ford GT40s to join the packed historic grid for the race on Saturday 13th June on the full Le Mans circuit, a few hours before the start of the modern 24 Hours endurance race. A field of 61 cars, dating from 1949 to 1968 and representing 26 different marques, took to the track in a live-action showcase covering two decades of motor racing history. More than 14 of the cars entered actually raced at Le Mans in period.
The seven-GT40 entry included the ex-Scuderia Bear/Essex Wire Corporation 1965 Mk1 that finished 3rd in the 1966 Sebring 12 Hours (Skip Scott/Peter Revson) and was put out of the 1966 Le Mans 24 Hours when it was struck by a works-entry GT40 during qualifying. Present-day GT3 and historic racer Andrew Smith shared the car with James Cottingham. Bernard Thuner, a veteran of three Le Mans 24 Hours races, dominated in Claude Nahum's GT40. The 1994 Swiss Touring Car Champion only lost the lead temporarily during the pitstop phase, while Andrew Smith and James Cottingham ensured there were two Fords on the podium. Ludovic Caron claimed third overall a good result after his sixth place grid slot.
Competition proved to be fierce across all classes, with action in the GT Cars 1960-65. A number of drivers were veterans of the "world's greatest motor races" with 12-times Le Mans 24 Hours racer and 1981 British Sports Car Champion John Sheldon, and former British Touring Car Champion Steve Soper making his first appearance at Le Mans in over 15 years at the wheel of a Jaguar E-type semi-lightweight.
Soper nicknamed « Soperman », who qualified 12nd on the grid ahead of Siassi/Kaufmann at the wheel of another semi-lightweight Etype, dropped quickly few places and eventually finished 10th and Siassi/Kaufmann surged up the order to claim the leader of Etypes and 9th place overall.
With other entries including Mercedes-Benz 300SL Gullwings, C- and D-type Jaguars, Aston Martin DB2 Lightweight Le Mans, Shelby Cobras and Lightweight E-types, the Le Mans Legend was something of a beauty show as well – though definitely a seriously hard-fought race rather than a parade.