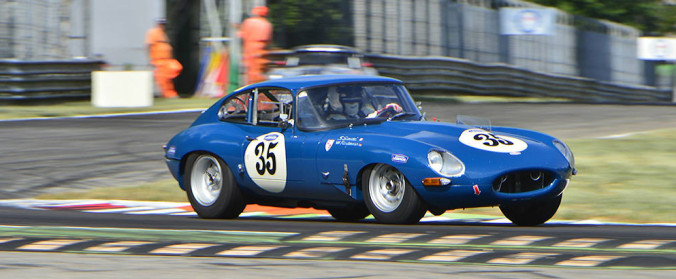 1st Podium Place for Gstaad Automobile Club Monza Historic "Sixties Endurance Race"
Siam Siassi completed his first race at Monza Historic 2015 by standing on the podium after finishing 1st Overall. The Autodromo Nazionale di Monza, known in Italian racing circles as 'La Pista Magica', is the fastest circuit of the season, and the passionate Italian fans give the race a unique atmosphere.
The two-hour Sixties' Endurance race is the traditional finale on Saturday afternoon and is more often than not dominated by the Shelby Cobras. The high-speed nature of the Monza circuit also suited the Cobra, which was underlined in qualifying. The first six places were filled by Cobras with the car driven by the Dutch pairing of David Hart and former F1 racer Giedo van der Garde fastest of all. Hart also grabbed the lead early in the race but despite controlling his pace, his Cobra succumbed to the heat with boiled brakes.
In total ten Cobra's had entered the race and at the end of qualifying two E-Types had finished seventh and ninth on the grid, making them the only cars to have managed to mix it with the mighty V8's at that stage.
The retirement of Hart and Van Der Garde just after forty minutes of the race was the first of many Cobra retirements, which also included later leader Andrew Beverley. Wolfgang Kaufmann had started in Siamak Siassi's E-Type and from the off he was in the top five and chasing down the Cobra's. As the pit window approached for their compulsory five minute and twenty five second pit stop another Cobra dropped out of the running putting team Siassi in third place.
Team Siassi had elected to make their stop just after the hour mark, a quick stop for fuel and drive to pit box to wait for the minimum stoppage time to elapse then followed. As the compulsory stoppage time came to its conclusion the car exited the pits with a total time of five minutes and twenty nine seconds shown on the timing-screens!
Andrew Beverley had just grabbed the lead from Siamak Siassi in his Jaguar as the race then further progressed, however as Beverley tried to build a safe margin with two fast laps sadly these proved too much and Beverley parked his overheating Cobra before doing any serious damage. This promoted Siassi back into the lead in the E-Type Coupe. From that point the team never looked back and they held firm to the finish winning the race by over a minute!!
"Monza is such a historic circuit and to win there is a really special feeling said Siassi. Monza is bellissimo! It's the fastest circuit we get to drive throughout the year and coming across the long start / finish straight you really are absolutely flat out. It's a very technical track which is all about late braking, riding and bouncing off the kerbs… it's pretty spectacular!"