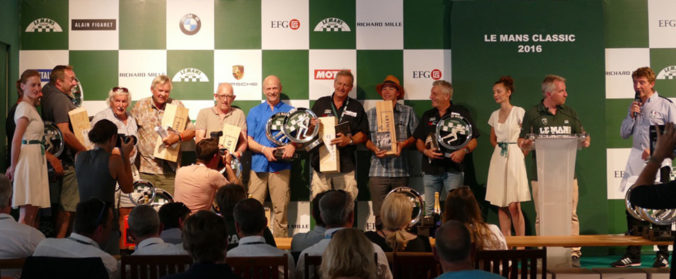 Team Graber Sportgarage on Le Mans 2016 podium
After 129 laps, Graber Sportgarage team #2 wins the first place in the Teams standings during Mans Classic 8th edition.
This is probably the biggest and the most difficult victory a team could achieve in historical circuit. With 4 laps ahead, the team wins the highest place on the podium facing 69 teams at the start of the race.
Under Gstaad Automobile Club banner, the team was composed by 11 pilots and improved both in Scratch or performance index.
Among the participating teams, Christian Traber (CH) and Spencer Trenery (USA) imposed themselves with their Talbot Lago from 1939, winning the Scratch podium on sage 1, 3 minutes before their oponents.
All so efficient, the other members of the team were, on stage 2, Erich Traber (CH), Mans Classic veteran, Jürg König (CH) and Bruce Trenery (USA), driving a Fiat V8 Zagato from 1953; on stage 3, Clive Joy (GB-CH) and Patrick Simon (D) with their Ferrari 250 SWB from 1960; on stage 4, Thomas Studer (CH) and his Shelby 350 GT from 1965; on stage 5, Peter Vögele (CH) with a Porsche 917 from 1970 and finally the stage 6 with Christian Traber (CH) and Peter Mülder (D) with a BMW M1 Procar from 1979.
Congratulations to all teams, to technicians and pilots for these 18 exceptional races. This was a week-end full of good moments, that was possible thanks to the help of Peter Auto organisation and their excellent work.
Graber Sportgarage team will be back in 2018!