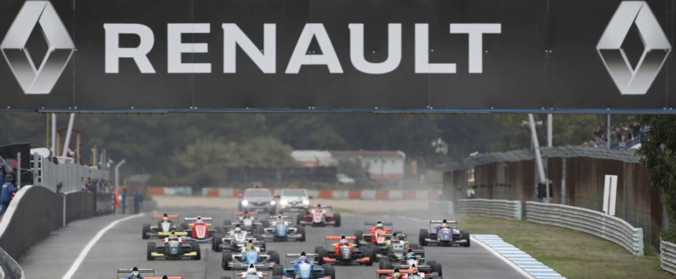 First place on Spa circuit Eurocup
This weekend was organized Eurocup Formula Renault 2.0 last season 2016 meeting on Spa-Francorchamps circuit. Hugo, who started 6th at the grid, knew how to race on Saturday on the mythical Belgian circuit just ahead of its partner Dorian Boccolacci (Tech 1 Racing) and Lando Norris (Josef Kaufmann Racing).
"…That's amazing. I'm glad I managed to finish at this place. That wasn't my best qualification this morning, but I realised a great operation at the start. Then I knew how to take advantage of our low-downforce configuration to overtake my opponents and I knew Max had stolen the start. I didn't tried to catch him, moreover my tires deterioration was pretty fast in the firsts laps. I wish to do the same tomorrow!…"
During Sunday race, Hugo passed the line in third position just after its partner Dorian Boccolacci, who ends first and Lando Norris actual Eurocup championship leader, who ended in second place. Overtaken only two laps from arrival, Hugo realises a great performance in Spa circuit that allows him to reach sixth place at Eurocup Formula Renault 2.0 general pilot's ranking. His team, Tech 1 Racing, is now at the second place in team ranking.
"…the team accomplished a fantastic job regarding the four cars' performances all along the week-end. I think I could have reached the first place this morning if I could have benefit from aspiration, but it's better to begin slightly behind in Spa to benefit from this same phenomenon! Once again I took a great start, but Dorian was faster. This would have been difficult to stay ahead no matter how aggressive I was, but I'm satisfied by this weekend! I also wish to thank my team and sponsors for their all day support…".
The next Eurocup Formula Renault 2.0 season 2016 meeting will take place on Estoril circuit in Portugal on October 22 and 23.
Photos credit : Dutch Photo Agency