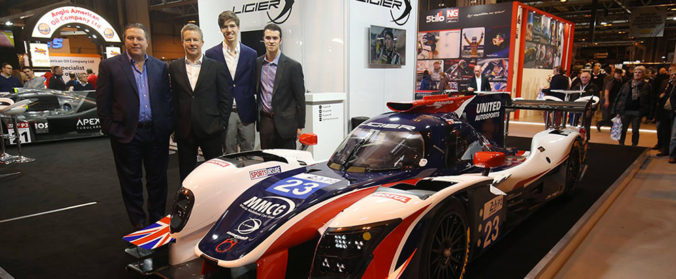 Hugo de Sadeleer joins United Autosports in the LMP2 category
During the Autosport Show, which took place in Birmingham last week, and in the presence of Jacques Nicolet, president of Onroak Automotive, Zak Brown and Richard Dean, co-owners of Team United Autosports, an official announcement confirmed that Hugo de Sadeleer had joined the team.
As part of the Ango-American team, Hugo will team up with William Owen as well as a third driver who is still to be confirmed. The team will be driving the all-new 600cc Ligier JSP217 in the European Le Mans Series championship, and will enjoy the prestige of taking part in the legendary 24 Hours of Le Mans. This year Hugo's own brother, Jérôme de Sadeleer, will be at his side in the context of managing his career.
Hugo : «  I am excited and hopeful about taking this huge step from single-seater racing to endurance racing. The ELMS will be a thrilling challenge. I am honoured to be joining such a distinguished team too. It was by chance that I met with United Autosports last season and they gave me the incredible opportunity to prove myself in their winning LMP3 car. I am very grateful for their belief in me and hope our partnership will lead to success. The Le Mans 24 Hours always felt like just a dream but the fact that it has become a reality is beyond belief. The history of Le Mans, as well as competing against drivers that I look up to, is something I am very proud to be a part of. »
After having driven in the 2016 Eurocup Formula Renault 2.0, Hugo de Sadeleer is continuing on his racing journey starting with the 2017 season of the European Le Mans Series on 29 March in Monza where he will take part in the official tests.
2017 Season of the ELMS :
Tests Monza : 29 march
Silverstone : 15 april
Monza : 14 may
Red Bull Ring : 23 july
Le Castellet : 27 aout
Spa-Francorchamps : 24 september
Portimao : 22 october