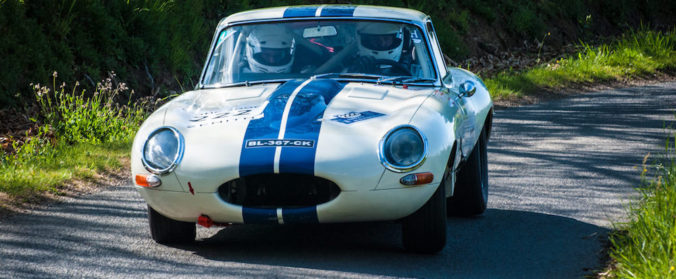 Tour Auto has finished with a great performance of Raphael Favaro and its Jaguar Type E
After 2500km through the most beautiful French roads, 26th edition of Tour Auto Optic 2000, one of the longest at that day, has finished with a victory of the British duo Andrew Smith / James Cottingham.
Spotlight on French Bretagne
As usual Tour Auto Optic 2000 has started in Paris at Grand Palais, in front of a crowd of spectators who came to admire the teams and their fast cars. But this 2017 edition was also marked by a unique passage in Bretagne.
There was a total of 242 teams ready to conquer French roads during five days, passing by stage cities like Saint-Malo, Haute-Goulaine, Limoges and Toulouse, where drivers have admired some of the most beautiful French monuments.
The race has ended at Cité de l'Océan in Biarritz after two special night races in Pays basque. If at the finish the British duo and its Ford GT40 were victorious, another duo well known to Gstaad Automobile Club has ended with honours.
Raphaël Favaro at the second place
Among the teams, Raphaël Favaro and Lucien Charles Nicolet have driven a Jaguar Type E well known to Gstaad Automobile Club.
Indeed, this semi-lightweight from 1982 belongs to one of our members, Jean Brandenburg. So it has made its owner very proud as well as its team finishing at the second place of VHC general ranking, after an epic battle against two Ford GT 40.
All Gstaad Automobile Club members wish to sincerely congratulate Raphaël and Lucien Charles, and look forward to the next edition in 2018 that should probably be as exciting!