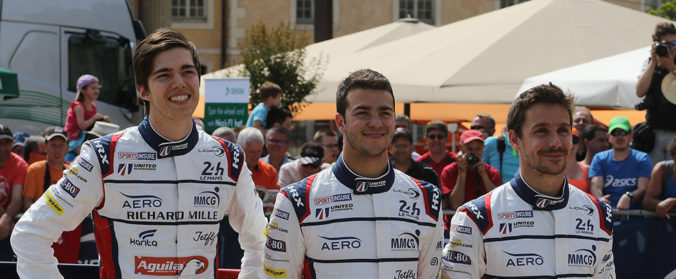 24 hours of Le Mans – Hugo passed the technical checking
Sunday, during the first day of technical and administrative checking Hugo and all United Autosports team were at Place de la République in Le Mans city center. These checking days correspond to the beginning of 24 hours of Le Mans 85th edition. They allow the participating cars to make the last adjustments before the first free trials that will take place on Wednesday 14th June and the race next 17th and 18th June.
The checking days are free for all curious and fans who came to see the vehicles and their pilots pass. Hugo has then signed some autographs before passing administrative and technical checking too. Once these verification done, the team has reunited to take the official photography that will be published in 2017 editions's book.
During qualifying on 3rd and 4th June, Hugo de Sadeleer has realised the fifth best top speed with 333.9km/h. A remarkable performance for a first participation. So the battle will surely be intense on the famous 24 Hours of Le Mans circuit.