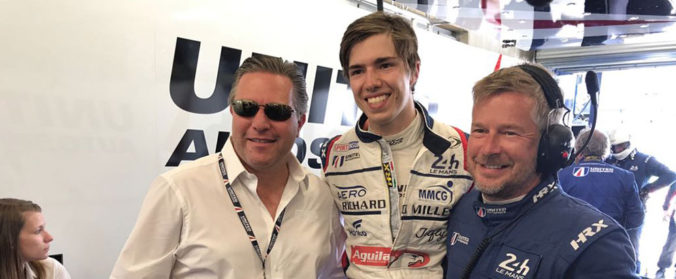 Hugo and United Autosports end 4th at Le Mans – 24 hours!
This weekend, during mythical 24 hours of Le Mans 85th edition, Hugo and United Autosports have caused a sensation winning the 4th place in their category, and 5th in the standings!
A great first for Hugo
Composed of Filipe Albuquerque, Will Owen and Hugo de Sadeleer, Ligier JS P217 team has driven over more than 360 tours and accumulated above 4850 km within 24 hours. An intense and successful first for Hugo who discovered Le Mans 24-hour race this year and was committed to show the extent of his skills.
Starting at the 15th place, Hugo and United Autosport n°32 had a lot to accomplish to come back in the first places, with a slower car compared to their direct opponent's.
Hugo conquers the 5th place
Nevertheless, thanks to an absolute reliability and a perfectly managed strategy, the car number 32 has succeeded in coming up in the ranking by the hour. On Sunday morning, as the sun was rising and Hugo was driving the single-seater, the team was already at the 4th place, a position gleaned by Hugo himself and kept by United Autosport team until the end of the race.
At the finish of Le Mans – 24-hour race, Hugo has declared: "What a success! I have worked so hard to prepare this race so ending with this result is like a dream came true. I've driven for many hours this weekend, and I am really satisfied with my performance and proud to have participated in this legendary race. Achieving such a result is only a bonus".
Impressive by his serenity, Hugo led a race full of maturity and coherence, alike his partners. This great performance at Le Mans – 24-hour race confirms its good season debut in ELMS, with the next race taking place at Red Bull Ring on July 23rd.