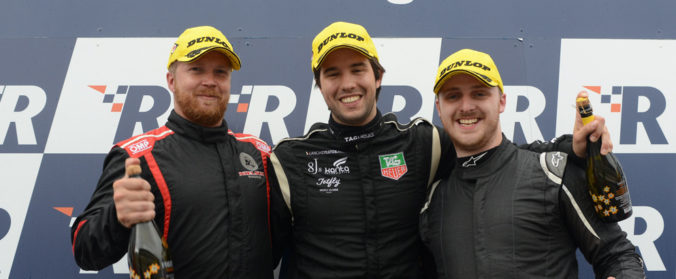 Jérôme De Sadeleer Dominates At Rockingham To Lead SR1 Cup Standings
Jérôme de Sadeleer jumps to the top of the Radical SR1 Cup title table after a dominant performance, taking a clean sweep of pole positions, race wins and fastest laps in the second-stage championship battles at Rockingham Motor Speedway.
Scoring his second pole position of his debut racing season on Sunday morning, the 360 Racing driver was the man to beat from early-on in the session with a time of 1:26.230. James Pinkerton was initially Jérôme's closest rival but David Thompson's constantly improving form saw the Nielsen Racing boss climb the order to earn second on the grid, Pinkerton third. Andrew Ritchie clocked in fourth, ahead of SR3 racer Mark Crader and David Tagg.
Although declared a wet race thanks to a late morning rain shower, the first SR1 Cup race of the weekend got away in dry conditions on Sunday lunchtime. Ritchie secured the best start of the Radical SR1 field, charging through from the second row to run three wide with Thompson and a slow away Jérôme heading into turn one. Thompson emerged the early leader into Deene with Jérôme in hot pursuit, but a slight run wide from the #10 car gave Jérôme all the invitation he needed to slip through into the lead at Gracelands.
With all four drivers occupying the first two grid rows clean away for round four on Sunday afternoon, Jérôme gained the upper hand amid the four-wide dash to turn one and, once out in front, the talented newcomer continued to build his unabated pace to the chequered flag.
Jérôme – Double race winner: "I'm really happy. Team 360 Racing did a really great job getting the car ready. We worked through a few issues and I was happy with the car on Friday. To get pole position, two wins and fastest laps, I couldn't be happier."