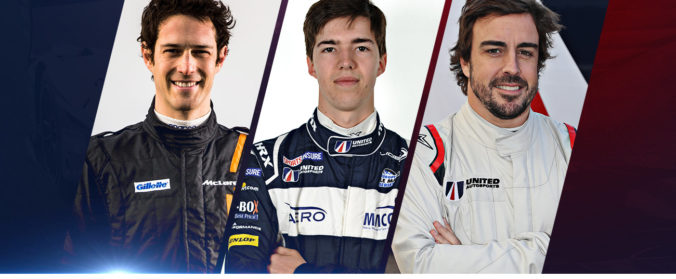 Bruno Senna with Hugo de Sadeleer at the 24 Hours of Daytona
It's official, after Fernando Alonso, this time it's a former Formula 1 driver who has joined the Anglo-American United Autosports team. Bruno Senna, nephew of the famous Brazilian driver Ayrton Senna, will race alongside Hugo de Sadeleer at the 56th edition of the 24 Hours of Daytona.
A new asset for United Autosports
Bruno Senna will take part in one of the world's most legendary endurance events this year, the 24 Hours of Daytona, after winning the LMP2 2017 World Endurance Championship. He will be sharing the wheel of the Ligier JS P217 LMP2, a car he knows well, with Paul di Resta, Will Owen and Hugo de Sadeleer.
Outstanding driver, Bruno Senna brings all his experience to the United Autosports team. Hugo de Sadeleer also had the opportunity to discover a little bit more about this surprising driver while riding alongside him.
On the occasion of his official arrival at United Autosports, Bruno Senna said : "I'm very excited to join United Autosports on this challenge for Daytona. It's an incredibly accomplished team and with the experience from 2017, great technical talent, as well as the incredibly strong driver line-up, we should be up for a good fight right from the start!"
With this new arrival, United Autosports is showing more ambition and should be involved in the battle for the first places in the next 24 Hours of Daytona !