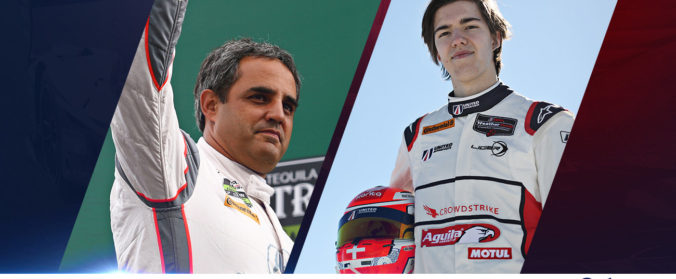 Juan Pablo Montoya alongside Hugo for the 24 Hours of Le Mans
After a remarkable first participation in the 24 Hours of Le Mans, Team United Autosports and Hugo will once again take the start of the mythical French endurance race… But this time with a new advantage of choice, namely the famous Colombian driver Juan Pablo Montoya.
Juan Pablo Montoya's experience at the service of Team United Autosports
Will Owen and Hugo will share the wheel this year with former F1 driver Juan Pablo Montoya, who gave some remarkable performances at the previous 24 Hours of Le Mans.
Even if Juan Pablo has never competed in the 24 Hours of Le Mans, his reputation, experience and track record make him a real plus for the Anglo-American team. Montoya is still active and is currently competing in the IMSA WeatherTech SportsCar Championship for Team Penske.
Triple crown goal for Juan Pablo Montoya
Along with his F1 career, he also won NASCAR and IndyCar, and remains the only driver to have won the CART Series title and triumphed in the Indy 500 and 24 Hours of Daytona in his first participation.
Let's cross our fingers that he will repeat this feat this year at the 24 Hours of Le Mans with Hugo!
The hope of winning the "Triple Crown" should also motivate the Colombian driver! Winner of the Monaco Grand Prix and the 500 miles of Indianapolis, he could indeed claim to glean this honorary title with Hugo at his side.
After the announcement of his arrival, Juan Pablo Montoya said: "I'm very excited about the opportunity to experience Le Mans and I'm looking forward to joining United Autosports after they had such a strong finish at Le Mans last year. I've always watched the race so I'm very happy to finally be part of it. Hopefully we can have a shot at a win."
The 2018 edition of the 24 Hours of Le Mans will be held on Saturday 16 June. Before going in the Sarthe region, Hugo and Team United Autosports will begin the European Le Mans Series season, a competition in which the young Swiss and his team have been competing for a year now.