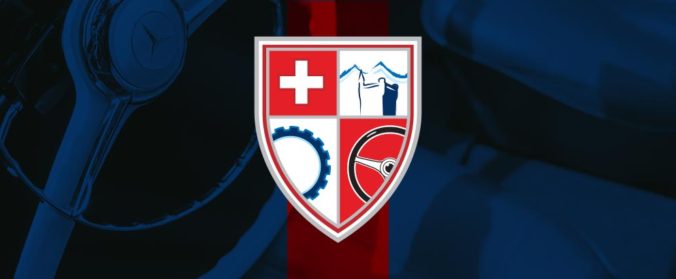 GAC Summer Programme 2018
Dear Friends,
The Gstaad Automobile Club was bom during a diner at the Palace in February 2005. Isabelle was returning from the Neige & Glace Rally and I had just completed the Monte-Carlo Historic Rally as navigator. We were deeply impressed by the skills required to drive on icy roads and wanted to learn them. Gstaad had an ice track, but no Club to take advantage of it during the winter months. In the following weeks we looked for help, to implement our idea and were lucky to find with Hansueli, someone who shared our dream, and the perfect President for our Club. At our first reunion held on March 9, some precisions were brought to the original project: "train during the winter season on the ice & snow track of Saanen Airport with our own cars. A social event will be organized after the general assembly meeting in February". The original concept is still in place. Our first training in Saanen took place on January 2, 2006 and our first annual diner was held on February 19. The Gstaad Automobile Club was launched.
lt will be another active summer for our Members as the Gstaad Yacht Club (GYC) invites us to the 12th Classic Car "Rally & Yachting", which will take place on August 10th & 11th. Registration will take place, at the GAC Club House in Feutersoey on Friday August 10th at 18.00 followed by a nocturnal challenge and a diner at 21.00. After an early start at 8.00 on Saturday August 11th at the GYC Club House, the day will end with a Prize giving diner at the Gstaad Yacht Club at 20.00. We always had a lot of fun in the past driving our classic cars and manoeuvring the radio controlled sailing boats. Don't forget to register directly with the Gstaad Yacht Club, as soon as possible: assistant@gstaadyachtclub.com.
The reason we joined the Club was to share driving experience with a few friends bound by the same passion for automobiles. The GYC Rally is a unique opportunity to do just that. It is also the fruit of a collaboration between our President and the GYC team. Let's show them our support, appreciation and register.
The Palace Hotel is also inviting us to participate to the "Gstaad Palace Challenge", which will take place from Friday August 31st to Sunday September 2nd. We welcome this opportunity to Rally around the Saanenland and to enjoy the hospitality of the legendary Palace.
Save the date of our 2019 Winter Training Event: January 2nd and March 2nd followed by Diner.
Last but not least you will also find enclosed the minutes of our 2018 General Assembly.
We look forward to seeing you soon.