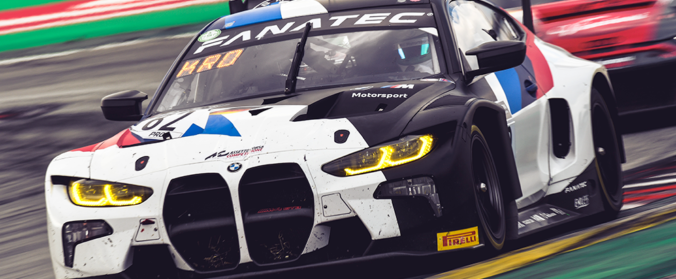 Barcelona – Good bye M6 … hello M4
Hello everybody,
I am a little late for my racing report – I don't have an excuse but the fact that we had to stay in Spain longer for an invitation we had to accept.
It was another of those tough weekends, knowing that the car was not going to be competitive due to the track configuration. We knew that the smaller/central engin cars where going to dominate and they did.
We went about our regular testing and setup during free practice and pre-qualifying. Unfortunately I did not have a great qualifying session and even if I had, it would not have made a difference due a 5 grid penalty I was given for excess speed in the pit lane! (I had three in all; two from the Nürburgring and one in Barcelona).
We started from the last row and had a good start. All cars had low tire temperatures and you could see an excess of car control from drivers. Once both the brakes and tires were up to temperature, it was time to attack. I overtook 5 cars. As I was about to overtake another in turn 1, the Ferrari drive into me. The front hood was displaced. Three corner later, I was hit hard by a Lamborghini, which broke my rim! I was able to limp back for a change of wheel and quick hood repair. I finished my stint after which my teammates, continued. We finished the race.
The M6 is now officially retired.
We stayed a few days and left to Valencia, having been invited by BMW Motorsport to test the new M4. So we tested the car! I cannot say much about it, but I really look forward in racing it next year!
With that, I wish you all a great upcoming winter.
Be safe, be healthy,
Karim
Photo credit : BMWgroup