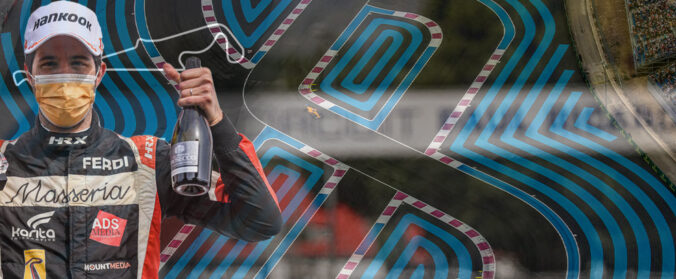 A podium for Jerome de Sadeleer at the Paul Ricard circuit !
Dear GAC friends,
I hope you have had a positive start to the year. I have watched my friend Karim Ojjeh give us great race updates with a lot of colour and I therefore feel like I have some big shoes to fill with this newsletter.
A new adventure !
Earlier this year on Day-10 of Dakar after a long day of racing in the dunes, a French gentleman and fellow competitor by the name of Christophe Cresp came up to me and said he was impressed with my driving. He asked me what I usually drive during the season, and I told him my normal car was a Radical SR3 Sports Prototype. It turns out Christophe owns an LMP3 team that competes in the European Le Mans Series and the Michelin Le Mans Cup Championship. He asked me if I had any videos of me driving and I proceeded to send him my YouTube channel. He told me that if I could do a top-5 in a Dakar stage after only one practice rally, he was sure I could handle an LMP3 sports prototype. A couple weeks later, I received a driver contract in my e-mail and the rest is history.
For 2022, I am racing a Ligier JSP320 LMP3 in the Michelin Le Mans Cup with MV2S Racing as the Bronze rated driver. My job is to partner a Silver rated driver, Louis Rousset who was able to bring us a very large title sponsor called Le Petit Forestier. My job this season, is to qualify the car and do all the race starts… so no pressure at all!
A lot of technical problems…
Last Wednesday, we arrived at the Circuit Paul Ricard to get ready for the official Prologue test. Things were going well in the early morning sessions, but we quickly realized that our engine was cutting out and the problem was starting to get worst. The team did a speedy diagnosis and it turned out it was two faulty sensors in the bell housing. Simply put, drain all the engine oil, remove the bell housing and gearbox from the carbon chassis, change the sensors and put everything back together. A three-hour job! We were able to re-join the session with 1.5 hours to go but did not manage to get a decent lap in.
With the bad luck behind us and the car working like a Swiss watch, we started Friday testing. FP1 went without trouble but the Bronze Test was where things got interesting. From the 31 identical LMP3s in the test, I was able to set the fastest time and was nearly a full second ahead of the next fastest car. A promising start!
The thrill of the race
Fast forward to Saturday, and I now started to feel the pressure. The Silver driver in my car kindly invited 40 guests to watch us race. Being the one that had to qualify the car and then do the race start, I can tell you the pressure was on. On one side, I wanted to show the team I could qualify in Pole position, and on the other I wanted to make my Silver driver has a chance to drive the car. Qualifying went well! We put on some shiny new Michelin rubber and off I went. I had a bit of trouble finding a decent gap in the traffic but was able to set a 1m 50.6 which put me decently in first place on the leader board. Turns out it was not good enough though, on the next lap, one of my competitors set a 1m50.5. I had to settle for 2nd on the grid.
A couple hours later came the race! After the formation lap, I proceeded to accelerate down the main straight with a lot of competitors trying to push their way past me. I did a bit of weaving around and comfortably slotted myself in P2. For the next 10 laps, I managed to stay within 1.5 seconds of P1 which was encouraging pace. After a few more laps, my rear tires literally fell off a cliff! It was my first experience pushing the rather soft Michelin tires, and truth be told I didn't take very good care of them. I suddenly struggled for pace and the car in P3 quickly caught up with me. Luckily for me, I was not the only one struggling and I rapidly made up some ground and caught the car in P1. Fast forward a few laps, and I suddenly completely lose the car on the final turn at the Paul Ricard track. After a rather quick spin, I manage to depress the clutch and found myself facing forward at about 60km/h. I banged down a gear, and off I went only having lost 1 second but also one position.
A superb experience in LMP3
While my engineer over the radio congratulated me for my stunt driving, he also told me we were going to try and stay out as long as we could. I waited for both cars in P1 and P2 to pit and then entered the pits myself. I jumped out the car quite happy with my performance but exhausted. I had told my mechanics I don't need a water bottle for a 1-hour stint…. boy was I wrong. My Silver driver entered the car in P2 with P3 less than one second behind. He manged to keep the car behind him for 50 minutes and brought it home in 2nd position. It was an incredible performance as it was his first time in an LMP3 as well. It was a fantastic weekend, and we are now 2nd in the championship. I go home dreaming about podiums, champagne, and tire management. See you in Imola on May 15th.
Jerome de Sadeleer