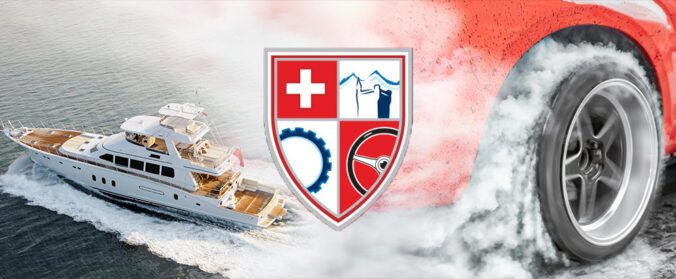 News about the 16th GYC & GAC Rally & Yachting 2022
Dear Friends,
lt was great to be back on the ice in Saanen for three Snow & Ice Driving Events. Christian perfect organisation combined with the help and involvement of our next generation contributed greatly to the success of our Events. Thanks to Jérôme for bringing Aston Martin, to Hugo for the terrific De Tomaso P 72 animation and to Victor for his assistance.
We are excited by the appeal our Club has on the younger generation, most of them successful racers, they will preserve and cultivate the racing heritage, of our Club.
The 16th Classic Car "Rally & Yachting", will take place, on August 5th & 6th. Registration as usual will take place, at the GAC Club House in Feutersoey on Friday August 5th at 18.00 followed by a nocturnal challenge and a diner. After an early start at 8.00 on Saturday August 6th at the GYC Club House, the day will end with a Prize giving diner at the Gstaad Yacht Club at 20.00. Don't forget to register directly with the Gstaad Yacht Club, as soon as possible: assistant@gstaadyachtclub.com
Since most of us are resuming our racing activity, let's share our racing photos, results and other news by sending them to: contact@karira.ch. Our site is full of news from our active racing Members: Karim Ojjeh, Jérôme de Sadeleer, Christian Traber and Vincent Neurisse. lt is very lively and dynamic. Come and watch them on: www.gstaadautomobileclub.ch.
Programme in detail
FRIDAY, 5TH AUGUST 2022
18h00 : Registration, briefing and distribution of start numbers.
18h30/ 19h00 : Departure for local nocturnal challenge & evening event.
PLEASE NOTE TO BRING YOUR CAR! "Sailing" model boats.
21 h00 : Dinner (dress: informal, please note that we are on 1 '600 metres above sea level).

SATURDAY, 6TH AUGUST 2022
8h30 : Car assemble.
Coffee in GYC – last registration and final re-briefing.
9h00 : Engines Start.
Lunch Stop
Afternoon : Engines Restart.
20h00 : Cocktail, dinner and & prize giving in the Gstaad Yacht Club (dress blazer/nautical touch) Guest speaker to be announced.
We look forward to seeing you very soon