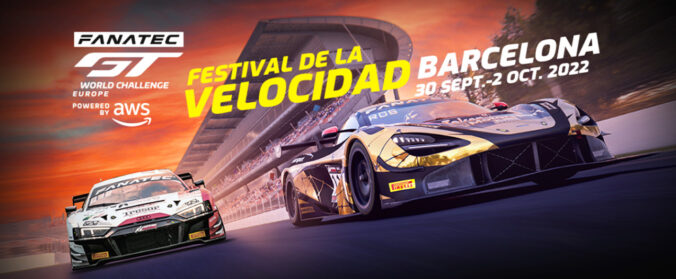 Barcelona … a Podium … Virtually
Our last race of the season.
The team was well prepared. We got there a few days before for some private testing. The Spanish sun did not fail.
Friday testing got underway with a lot of red flags, meaning that the first session had to be stopped regularly. For an hour session, we only got 27 minutes of running! One car hit the wall in the last corner. Another went off, causing debris on track.
The second session went to plan with a couple of set-up changes. The last part of the day was dedicated to the Bronze drivers. It gave us, the Bronze drivers, an extra hour on the track. It was really tough, with all drivers being 4 tens of a second apart.
It was an early start on Saturday with more testing – two 1.5 hours sessions. Sunday came with morning qualifying. We struggled, not understanding why we had lagged performance. After review we saw that the leading Audi had more braking efficiency all around. We also found that the Audi drivers had a better understanding of the sterling wheel input in that they would put more steering angle to turn the car and keep a pronounced under-steer when cornering. They simply dealt better with this unnatural behavior of the car.
I started the race. Kept my position until the middle of my stint. I was approaching the first corner as my engineer radioed in. I lost a little concentration and spun, costing us 15 seconds. I rejoined. 15 laps later I pitted and Benjamin took over. We went from 10th to 6th. Adam took the wheel and was doing a great job until we were handed a drive-through penalty for track limits – I am not proud in having to admit that I had 5 track limits, Benjamin 2 and Adam 1! (What are track limits? The FIA rule book states that you have to keep your car between the white lines. What does that mean? You must at all times keep in contact with the track, which means that you have to have at least 2 tires on the track at all times. At the start of the weekend they warned us of turns 9 and 15. Turn 9 was a real trouble maker, causing a lot of drivers to get a warning. You get 3 warnings before a penalty is handed down. We got a total of 9 track limits before we got the drive through). It cost us the podium.
I want to thank everyone at Boutsen for a great season and for wishing to be part of the adventure this season. Also a big thanks to SRO, the organizers, for having the world's best GT3 racing championship in the world. It is the toughest, but at least you know where you stand at the end ; against the best.
Wishing you all a great upcoming winter
Karim