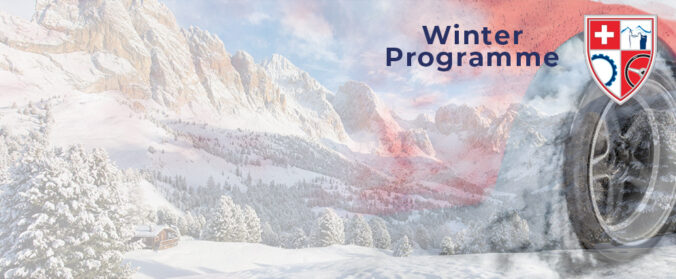 Our Winter programme
Dear Friends,
We were all happy to resume our motor racing activity this year, and to meet each other again on the various motoring events. For Historic racers, Le Mans Classic of Members Patrick & Sylviane Peter was the highlight of the season. Ursula Burri, who has taken care of our Club House since its opening has decided to retire. We will miss Ursula friendliness and professionalism during all those years, but she will still assist her chosen successor: Eva Kollmer during our Annual Diner. Welcome to Eva and Happy Retirement to Ursula with a huge Thanks from all of us!

The sixteenth Classic Car "Rally & Yachting", was a big success with 31 cars participating. It started with the registration at our Club House but the traditional model boat regattas had to be cancelled due to heavy rain. Saturday drive was superb with Member Guillaume Chauvet and his family crew winning the challenging Event among fierce competition. Other Members competing included: Tiziano Carugati, Sonia Mermod, Peter Merian, Pierre Mirabaud, Stanislas & Hugo de Sadeleer, Caspar Sturm and Christian Traber. Save the date for next year Rally, which is expected to take place on August 4 & 5, 2023.
The Committee has developed over the years a close relationship with the Zoute Automobile Club (ZAC). We are in the process of experimenting a friendly unformal reciprocal, that would allow a selected group of ZAC members to participate to our Events as paying guests, with the same opportunity being provided to our Members.

The Training & Snow-Driving Events on the Saanen Airport, General Assembly and Annual Diner will be held at the following dates:

05/01/2023: Training & Snow-Driving Event with the Gstaad Yacht Club in Saanen
17/02/2023: Training & Snow-Driving followed by General Assembly at our Club House
18/02/2023: Yearly Snow-Driving Event followed by Annual Diner at 19.30 at our Club House.
Members are welcomed to invite friends to our diner (CHF 100.- charge per guest).
Please make sure to return the attached answer-forms, and to review the safety procedure instruction, which are also enclosed with the agenda of the General Assembly 2023.

The annuity for 2023 has been set at CHF 2'000.- for individual members and at CHF 3'000.- for couples. Children of Members will be charged CHF 1 '000.- this year.

We look forward to seeing you soon !