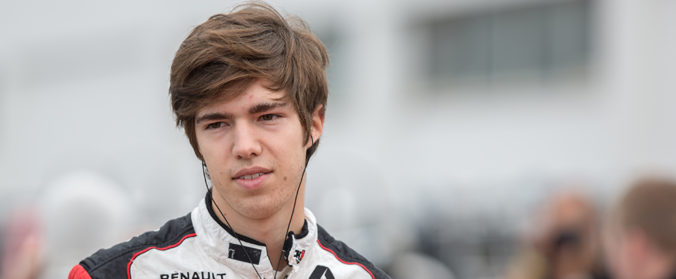 Hugo de Sadeleer ends two Renault Formula 2.0 championships
Northern European Cup
Northern European Cup ends on Hockenheim circuit in Germany last 1st to 2nd October. Hugo de Sadeleer has ended this season at the 9th place on the overall classification with his last two races: 5th and 6th place on Hockenheim circuit. His team "Tech 1 Racing" ends at the third place on the team classification.
Eurocup Formula Renault 2.0
Hugo de Sadeleer has also ended Eurocup Formula Renault 2.0. The first race of the weekend took place on Saturday October 22nd. As he started at the 11th place, Hugo managed to impose himself on Estoril circuit and finished on the podium at the second place.
Hugo de Sadeleer : "Being thirteen on the starting grid, this podium is unexpected. I think I did the right choices during the first lap and some raises because I won some places all the time. Unfortunately I damaged the rear wing at the second restart as the pack was compact, but I managed to finish the race despite Robert Shwartzman attacks. It is a true happiness to sign a third consecutive podium and I thank all the team!"
This weekend ended the 2016 season, so Hugo finishes at the 6th place on the Eurocup Formula Renault 2.0 general classification.